The current page has been visited 18913 times.

Visitors today: 2


---

Hits to all pages: 7632070

Server-Time: 04:34
2023-12-11
OpusSMBHandler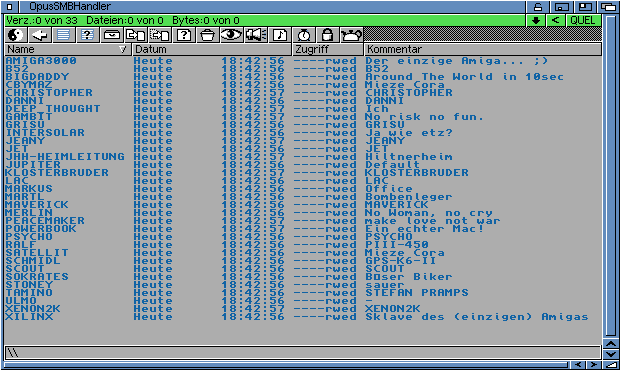 (Screenshot of OpusSMBHandler)

Description
This ARexx-script is a handler module for Opus Magellan which allows to access a Windows network environment in your local network.
The script uses a working samba installation for accessing the network.
The basic oprations like copy, delete, rename and change- directory are supported.
There is also support for password protected access to shared network-folders.

Requirements

OpusMaggellanII
A working Samba installation (not sure what versions work, I use the V2.1.0-prealpha)
Access to a windows network over Ethernet

Distribution
OpusSMBHandler is PUBLIC DOMAIN. But I would be happy to get an eMail if you like/use it or if you have any questions about this program.



Don't ask me how to correctly install Samba - it doesn't work correctly on my machine, too!!



>>>> Feel free to improve this script!!

I would be happy if there would be someone out there who has more time than me and could improve the script and add more features, etc...


You can download OpusSMBHandler here.